Import Puzzles

Puzzles may be imported and exported. This feature facilitates the exchange of puzzles as well as providing a means to retrieve archived puzzles. A special file structure (*.CW3) is used for importing and exporting. You can swap puzzles with friends and associates who also use the Crossword Construction Kit.
To import puzzles from a file click on File | Import from the Crossword Construction Kit window. A standard Windows dialog prompts you to select the file from which you will be importing the puzzles. Selecting the (*.cw3) puzzle file opens the Import Crossword Puzzles window as shown below, listing all puzzles available for import.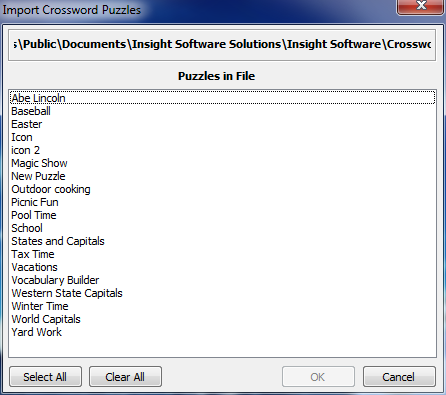 Crossword Construction Kit window > File > Import

Select All
Click on this button to highlight all puzzles for import. Or if only needing to import one or several of the listed puzzles, just click and highlight the ones wanted.
Clear All
This option removes the highlighting from any puzzles selected. At this point, no puzzles are selected for import.
OK
After selecting the puzzle(s) to import, click OK. The selected puzzles are imported to Crossword Construction Kit and may be found in the category it was assigned.

Click Cancel to stop the import process and return to the previous window.